20' Spacemaker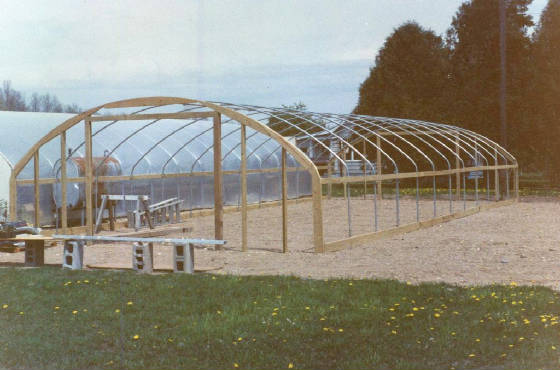 Inexpensively increases square footage - a 20' x 96' holds 1048 flats with center aisle.
Fuel efficient - Easy to heat confined area
Easy to cover - 32' poly
Easy Access - 20' wide structure is 8-1/2" high in center
Utilizes Allied 50/55 with Gatorshield Galvanized tube
All necessary hardware included
Sizes:
20' x 20'
20' x 48'
20' x 96'
20' x 144'

Features
Available in 18' & 20' widths
4 ft. bow spacing
Bows are 1.66", 14 ga. galvanized steel tubing
3 purlins per greenhouse
Can be used for overwinering, growing or season extension of vegetables
Strong and able to withstand heavy snow loads
Low cost per square foot
Great for starter greenhouses
Features
Base Package:
The base package includes the framework complete with pre-drilled steel, hardware and instructions. Each base package includes 2" x 4" end wall framing brackets, a double layer of 6 mil, 4 year, clear polyethylene film, polylock for sides and gable ends and an inflation blower.
20' Gothic Cold Frame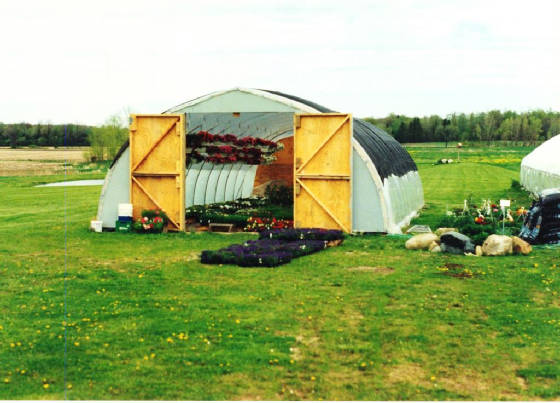 Designed to cope with condensation run-off, shed snow and withstand harsh conditions while remaining stable.
Pre-drilled galvanized steel components
Easy installation-can be done in 1 day
High peak allows for improved snow shedding
The positioning of the side purlins accommodate the easy loading and unloading of stock from the sides.
Includes:
1-1/2" dia. x 36" anchor posts, swaged and pre-drilled
1-1/2" dia. gothic arches, swaged and pre-drilled
1-1/2" dia. center peaks, pre-drilled
3 runs of 1" dia. purlins
8 wind braces - 1" dia. punched
End arches and end peaks are 1-1/2" square for easy gable framing
All required fasteners
Sizes:
Available in 4' or 5' arch spacing
Freestanding Greenhouses
All parts are pre-drilled, easy to assemble, and are built with long lasting galvalume steel components. The roof's gothic peak helps shed snow.
Sizes
18' 21', 24' and 27' Freestanding
30' Widespan
Framing
Available in 4' or 5' centers
2" dia. galvalume steel anchor post, side post, arches and peaks
21' houses have 3 runs of 1" steel purlins, 24', 30' houses have 5 runs
All components are pre-drilled and swaged
Diagonal steel wind bracing
30' widespan houses have crop transfer braces every 8' or 10'
Includes all necessary mounting brackets, fasteners and achor posts

Built to exacting standards, this engineered design will provide many years of quality service.
Sizes
18', 21', 24', and 27' widths
Twin 18', 21' and 24' widths
Features
Designed for quick, easy construction
Hot dipped galvanized 3" square posts - galvanization after manufacturing is completed
Hot dipped galvanized trusses
Gable ends have inverted trusses and 3" center posts for strength, rigidity and for crop support
Maximum light transmission due to 1" x 2" or 1" x 3" arches
Pre-designed for heating and shading systems
Double poly roof
Polycarbonate panels in all sizes
12' lean-to
Post Spacing
12' post spacing at various heights
4' and 6' arch spacing

Hormark, 302 S. Main St., Capac, MI 48014
800-482-4800 within Michigan
810-395-2075 Local calls or outside Michigan
Fax: 810-395-7985